Main information:
General information for visitors
Restoration work in the palace park
Due to urgently required restoration work in the palace park, disruption through noise and construction machinery is currently unavoidable. Please excuse the inconvenience caused.

Information for visitors with reduced mobility
General plan with notes for wheelchair users and persons with walking difficulties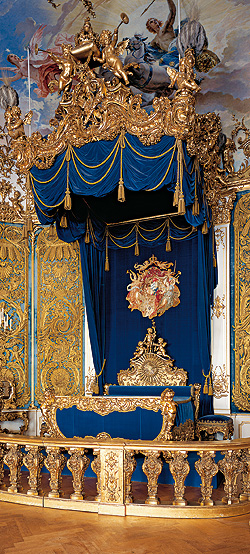 In the palace we provide a mobile stair climber for wheelchair users. For organizational reasons we ask wheelchair users to contact the staff at the cash desk.
Toilets for the disabled you can find in summer at the car park and near the palace (in winter only near the palace).
There are some wheelchairs and walking frames available – please inquire at the cash-desk.
Buildings in the park: For wheelchair users it is possible to visit the Grotto, Hunding's Hut and the Royal Lodge; also possible is a view into the Hermitage of Gurnemanz. At the Moroccan House and the Moorish Kiosk several steps must be negotiated to get to the entrance.
Plan of Linderhof Palace and Park
Here you will find a plan of the Linderhof grounds.
Photography and filming
Taking pictures or filming is not allowed in the palace, in the royal lodge and in the King's House on the Schachen. Photo and film shootings are basically subject to approval and charges. Here you will find information on photography permits / film permits. Taking pictures of the outside of the buildings for private use does not require a permit. The Linderhof Palace complex is part of the Ammergebirge Nature Reserve: the flying of model planes and drones / multicopters is therefore prohibited.
Wi-fi
Free wi-fi is available in the following areas: From Linderhof Palace over the Water Parterre to the Terrace Gardens as well as in the beer garden and near the cash desk.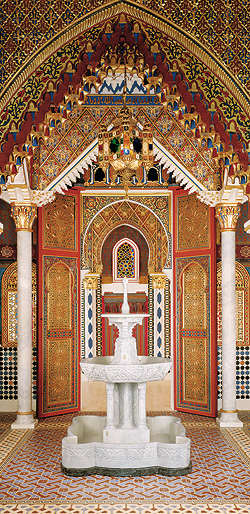 Bulky items
Bulky items may not be taken into the palace. Lockers are available opposite the Schlosshotel for large bags, rucksacks, photo equipment etc. A number of lockers for smaller items you can find near the toilets at the palace.
Prams and child carriers can be left at the palace entrance.
No liability can be accepted for items deposited in lockers or at the entrance.
Dogs
Dogs may only be taken into the palace if they are carried. Unfortunately, we cannot offer supervision for animals brought along. Please keep dogs on an lead in the park.
| top |