Main information:
General information for visitors
Current information / Coronavirus
For a visit to our sights, the 3G rule applies if the 7-day incidence determined by the competent district administration authority is above 35, i.e. all visitors must either be
vaccinated against Covid-19
(with a vaccine authorised in the EU),

recovered from Covid-19 or

tested negative.
Proof of a negative PCR test (maximum 48 hours old) or rapid antigen tests / self-tests under supervision (maximum 24 hours old) must be BROUGHT ALONG.
No tests will be offered or proof issued on site!
Children up to their sixth birthday, pupils who are subject to regular testing as part of their school attendance and children not yet enrolled in school are exempt from compulsory testing.
You will need to bring appropriate proof (written or electronic).
Here you will find further information and FAQ.
---
A visit to Linderhof Palace is only possible as part of a guided tour. Please note that the group sizes had to be significantly reduced due to hygiene regulations.
No reservations are required. However, at Linderhof Palace visitors have the option of booking online in advance via our reservation website (maximum 7 days in advance; booking deadline for the next day is always at 5 pm). We kindly ask tour operators etc. to contact our staff at Linderhof Palace for a reservation.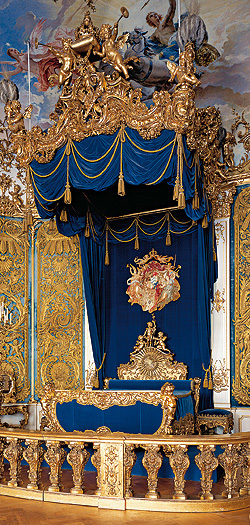 Information for people with a handicap
Here you will find some information to prepare your visit to Linderhof Palace if your mobility is restricted or if you are visually or hearing impaired.
Plan of Linderhof Palace and Park
Here you will find a plan of the Linderhof grounds.
Photography and filming
Taking pictures or filming is unfortunately not allowed in the palace, in the royal lodge and in the King's House on Schachen. Photo and film shootings are basically subject to approval and charges. Here you will find information on photography permits / film permits. Taking pictures of the outside of the buildings for private use does not require a permit.
The Linderhof Palace complex is part of the Ammergebirge Nature Reserve: the flying of model planes and drones / multicopters is therefore prohibited.
Wi-Fi
Free Wi-Fi is available in the following areas: From Linderhof Palace over the Water Parterre to the Terrace Gardens as well as in the beer garden and near the cash desk.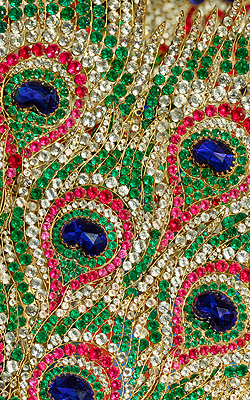 Bulky items
Bulky items may not be taken into the palace. Lockers are available opposite the Schlosshotel for large bags, rucksacks, photo equipment etc. A number of lockers for smaller items you can find near the toilets at the palace.
Prams and child carriers can be left at the palace entrance.
No liability can be accepted for items deposited in lockers or at the entrance.
Dogs
Dogs may only be taken into the palace if they are carried. Unfortunately, we cannot offer supervision for animals brought along. Please keep dogs on an lead in the park.