Main information:
Information for visitors
Further sights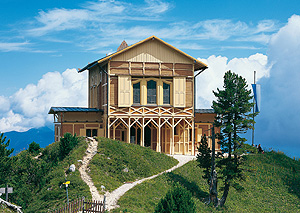 King's House on Schachen
A further property administered by the Bavarian Palace Administration in the Linderhof region is the King's House on Schachen.
Ludwig II selected a unique setting with a view of the Zugspitzmassif for a mountain lodge. The wooden building with its rather modest exterior conceals a hall on the upper floor furnished with Oriental splendour.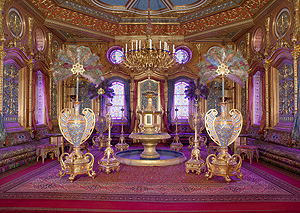 The king sought the seclusion of the mountains to celebrate his birthday and his name day in the lavishly decorated Turkish Hall furnished with divans and a fountain.
The King's House can only be reached on foot, either from Elmau or Garmisch-Partenkirchen. Near the King's House you will find the restaurant Schachenhaus, where you can also stay overnight.
---
Discover the castles of King Ludwig II of Bavaria
| top |