Main information:
Information for visitors
Current information / Coronavirus
According to the current legal situation, an opening of our houses is possible depending on the local seven-day incidence.
Linderhof Palace is open at present; a visit is only possible as part of a guided tour (clearly reduced group size).
An online reservation via our reservation website is required for the visit (maximum 2 days in advance; booking deadline for the next day is always at 5 pm).
After a successful reservation, you will receive a confirmation which must be presented at the time of your visit. Unfortunately, admission without this confirmation is not possible.
Please take into account waiting times and restrictions such as altered routes or room closures.
Due to the restrictions imposed by hygiene regulations, the number of available parking spaces has been considerably reduced; please note the information provided on site.
The official hygiene and conduct rules of course apply for visits to all the sights and notices will be posted in each place as a reminder.
Here you will find a list of currently open/closed houses as well as general information and FAQs for visiting our sights during the restrictions due to COVID-19.

Opening hours and guided tours
Opening hours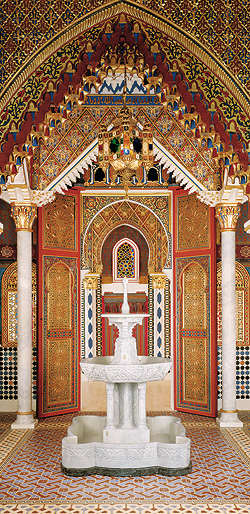 Public holidays: All buildings are closed on 1 January, Shrove Tuesday, 24 / 25 / 31 December.
Tickets on sale:
April-15 October: daily 8.30 am-5.30 pm
16 October-March: daily 9.30 am-4 pm
Linderhof Palace
April-15 October: daily 9 am-6 pm
16 October-March: daily 10 am-4.30 pm
Moroccan House and Moorish Kiosk
15 April-15 October: daily 9 am-6 pm
closed from 16 October to 14 April
Hunding's Hut and Gurnemanz Hermitage
15 April-15 October: daily 11 am-6 pm
closed from 16 October to 14 April
In winter the park buildings (except the Royal Lodge) are closed. Please note that the opening/closing dates of the park buildings at the beginning/end of the season depend on the seasonal weather.
Exhibition at the Royal Lodge
April-15 October: daily 11 am-6 pm
16 October-March: Sundays and public holidays: noon-4.30 pm and during the Bavarian school holidays daily from noon-4.30 pm
Waterworks: mid-April to mid-October · daily 9 am-6 pm · fountain every half hour
Guided tours
The visit of the palace is only possible with a guided tour. There are guided tours in German and English. A tour lasts about 25 minutes (max 10 people).